Semi Truck Accidents Are Often Very Serious, Here's What Causes Them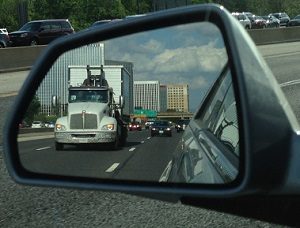 Semi trucks drive more miles on Illinois roads every year than most passenger vehicles, yet they account for a small number of traffic crashes. Many reasons for this have been suggested including the fact that trucks drive slower than most traffic on highways, that truckers must undergo more intense training to become licensed, and that since they drive for a living truckers are more aware of the dangers associated with driving and therefore more mindful of safety procedures. However, our Chicago truck accident lawyers know that even though they aren't involved in as many accidents, semi trucks are involved in a large number of fatal collisions or crashes with serious injuries. We are experienced with seeking compensation for semi truck accident victims and can help you and your family recovery. Contact us today for a free consultation by calling (312) 924-7575 or by filling out our online form.
Why do semi trucks get into accidents?
Due to their size and the relatively long time it takes to slow or stop a semi, it is easy to see how the driver of a small passenger car would be unlikely to escape from a semi crash unharmed. Though semi truck crashes can be caused by all of the same reasons as other vehicle collisions, there are a few types of accidents that are among the most common crashes. In the experience of our attorneys, the following list comprises some of the most common causes of semi truck accidents:
Driver Error: Driver error on the part of a trucker accounts for a significant percentage of all semi crashes. This category includes crashes caused by a speeding driver, a driver who fails to check a blind spot before switching lanes, and driver confusion.
Driver Fatigue: Truck drivers work long and they have demanding schedules. The hours they drive may be limited by the law but many drivers continue to be behind the wheel when they are exhausted or otherwise should be resting. Long haul drivers may be in a cab for days or weeks at a time with little to break up the monotony of the road. This can lead a driver to lose focus on the road and to ignore safe driving techniques, causing a crash.
Driving Under the Influence: It is illegal in every state to drive under the influence of alcohol or drugs. In Illinois, commercial drivers are held to a different standard than the public and are allowed to have less alcohol in their systems. This is because the size, weight, and force associated with a semi truck makes it an inherent danger to others on the road and causes an increased need for safety. Drivers who operate a semi under the influence pose a danger to themselves and everyone else on the road.
Failing to Secure Loads: Semis in the Chicago area are usually hauling trailers that are loaded with product. Big or small, this product needs to be properly packed and secured so the weight is distributed across the truck. Failure to properly distribute the weight makes it more likely that a truck will cause an accident, especially when turning or when trying to stop. When product is not properly tied down or stored on a flatbed trailer, it can fly off the trailer and into the path of another vehicle, causing that other vehicle to crash.
Low Filled Liquid Loads: Many trailers are designed to transport liquids, including gas and oil. These tanks can hold a certain amount of liquid before they are full. However leaving the hold partially full can be more dangerous than you may realize. If a trailer has less than ¾ fill, the liquid can splash around inside the trailer and cause the truck to sway back and forth, especially with turns or changes in speed. When the liquid makes a sudden movement, a driver can lose control of the truck and can cause an accident.
Rear-End Crashes: One of the deadliest types of crashes for passengers of cars in Chicago is when their vehicle is rear-ended by a semi truck. A semi truck driver that fails to slow or stop their vehicle in time to prevent a crash with a car in front of them will strike the rear of the car, often with significant force. A car is not designed to take this heavy impact and likely will crumble in response. All vehicle occupants are at risk for injuries in the event of a rear-end crash but backseat passengers, including children, have a particularly high risk of injury or death.
Wide Turns: Whether turning right or left, a semi truck will make a wider turn than a standard passenger vehicle because of its length, size, weight, and limited turning radius. However this does not give a truck a right to turn as wide as they please and cross other lanes of traffic. Trucks are still required to remain in their lane of traffic while turning and to exercise due care for others in the area. Failure to do so may result in a crash.
Driving While Distracted: Many truck drivers are focused on the road and nothing else while they drive, but unfortunately not every driver takes this approach. As modern technology continues to improve, more and more drivers carry cell phones, tablets, GPS, and other gadgets that can be a source of distraction. Aside from technology, eating behind the wheel, conversing with a passenger, or even getting lost in a song on the radio can be a distraction. Many companies have rules about what their drivers can and cannot do behind the wheel but it is up to an individual driver to comply with these and with any local and federal laws that may be in place.
Lack of training: With the demand for truck drivers being so high, sometimes commercial truck companies do not do enough to train and check on their drivers' skills. This can lead to dangerous and severe accidents, especially since truck are so heavy and so large.
Lack of Maintenance: Trucking companies and owners are required by law to ensure that their vehicles are maintained and in a condition that ensure everyone around them is safe. However, the costs and time involved in maintaining semi and commercial trucks cuts into profits and time that could be using to make deliveries. Thus, poorly maintained trucks are one of the biggest causes of truck accidents in Illinois.
When an accident with a truck in the Chicago area occurs, those in the other vehicle are likely to be injured or killed. If the truck driver, the truck itself, or the company the driver works for are wholly or partially to blame, those who are injured may be able to make a claim for their losses with the assistance of a personal injury lawyer.
If you have been hurt or a loved one has been hurt or killed in an accident with a semi truck, call Abels & Annes, P.C. today at (312) 924-7575 and let our attorneys help you or contact us online.
We never charge a fee unless we make a recovery on your behalf and our consultations are always free. We can determine whether one of the common causes of semi truck accidents played a role in causing your injuries.
Call the personal injury lawyers at Abels & Annes at (312) 924-7575 for a free case consultation now.