What Happens If I Am Disabled After a Motorcycle Accident?
If you are disabled after a motorcycle accident, you can face a lifetime of expenses and hardships. You deserve fair compensation for what a negligent party did to you, and you may only have one opportunity to do so.

Hire a motorcycle accident lawyer to pursue all the compensation you deserve. They will allow you to adjust to your disability and heal (to whatever possible extent) while they pursue a fair settlement or judgment.

Schedule a Free Initial Consultation
Motorcycle Accidents Pose an Unusually High Risk of Causing Disabling Injuries
Motorcyclists are not dumb. When they hop on a powerful, two-wheeled vehicle with no surrounding metal cage, airbags, or seatbelts, they understand the risks. However, motorcyclists can only control their actions not those of other motorists, vehicle manufacturers, or municipalities responsible for road conditions.

Tragically, factors outside of motorcyclists' control often cause life-changing motorcycle accidents. Motorcyclists face a risk of dying in a traffic accident much greater than the risk to motor vehicle occupants.

Even if you survive a motorcycle accident, your injuries can change the course of your life. Many motorcycle injuries are disabling and permanently affect many aspects of your personal and professional life.

Steps to Take After Suffering a Disabling Injury in a Motorcycle Accident
You must proceed cautiously after a motorcycle accident. Your health is likely fragile, and your financial recovery is always at risk until you secure it.
Key steps to take are:
Hiring an attorney as soon as possible: An attorney can advise you in every aspect of your case, including how to get medical treatment for injuries. While your health is a priority, you should not wait any longer to hire a lawyer. Your attorney will protect your rights and instill calm during an uncertain time.
Continuing to receive medical attention: If you have not received a clear, complete diagnosis for your injuries, you must seek medical care as soon as possible. If you feel you've received a thorough examination, preserve all medical paperwork and images of injuries.

If you have a treatment plan for injuries, follow it closely. This will prevent liable parties from claiming you are responsible for any injury-related symptoms. If you don't have a treatment plan, that's another reason to seek further medical attention.

Types of Disabling Injuries Motorcycle Accident Victims Suffer
Many types of injuries can be disabling so long as it is severe.
Disabling motorcycle accident injuries include:
Spinal cord injuries
Severe fractures
Injuries affecting internal organs
Amputation injuries
Severe muscular injuries
Disfiguring injuries

Other injury types can be disabling. If your injury significantly impairs your quality of life, it may qualify as a disability. Personal injury attorneys often work with medical experts to help diagnose and value disabling injuries.

How a Disabling Injury Can Affect a Motorcycle Accident Victim's Life?
Few events can affect someone's life like the onset of a disabling injury. Virtually everything you do, from waking up in the morning to doing your job, may change. Some of the notable effects you may feel after a disabling injury are:
Psychological Shock
Adjustment disorders are among the possible consequences of a serious injury. You may take time to accept that you have a disabling injury. This can be a long, painful process that comes with its own challenges.

Emotional Pain
The realization of your disability may cause immense emotional pain. You may endure a sort of mourning process, as you have lost certain abilities that were important to you. Your attorney will factor such emotional pain into their case.

Short-Term Financial Costs
The Christopher & Dana Reeve Foundation estimates that the cost of a spinal cord injury in the first year alone can exceed $1 million.
Immediately following your injury, you may need:
Medical care
Medications
A vehicle that accommodates your disability
Disability-related changes to your home
Caregiver services
Counseling and other means of coping with psychological and emotional pain

These short-term costs can be overwhelming and substantial. Your lawyer will seek a financial recovery that provides the relief you need.

Long-Term Financial Costs
Disabilities are often long-term in nature.
As time passes, you may face the financial cost of:
Ongoing caregiver services
Housing for the disabled individual, which may require them to live with a relative, move into a specialized facility, or find disability-friendly accommodations
Continuous rehabilitation

Each individual's disability requires different services and changes the victim's life to varying degrees. Your lawyer will work with experts to determine the total cost of your disability, both now and in the future.

Professional Harm
Those with disabilities can sometimes find jobs that work within their limitations.
However, in many cases, a sudden disability from a motorcycle accident will cause:
Lost income
Missed chances for promotions and bonuses
Loss of benefits
Loss of identity and fulfillment you get from your career
Psychological uncertainty due to the strain of losing your means of financial support

Even if you can eventually return to work, you may have a decreased role, limited hours, or an entirely new career. Such changes can limit your earning power.

Disruptions in Loved Ones' Lives
A disability affecting a motorcycle accident victim can also affect their loved ones.
Spouses, parents, children, and siblings may need to assist the motorcycle accident victim by:
Quitting their job, taking a temporary leave, or reducing their hours to help care for a disabled loved one
Dedicating more of their psychological and emotional bandwidth to their injured loved one
Providing caregiver services, either temporarily or permanently
Allowing the loved one to live with them, either temporarily or indefinitely

Individuals affected by the disability may be entitled to fair compensation for life changes, such as quitting their careers to care for their loved ones.

Ongoing Rehabilitation
Some disabling injuries may be improvable with time and rehabilitation. In other cases, rehab may be necessary to prevent the worsening of symptoms or the development of new health complications.

Recoverable Damages in Motorcycle Accident Cases Involving a Disabling Injury
Personal injury attorneys put their clients' damages into legal terms.
The categories of damages that the civil justice system allows you to seek compensation for include:
Pain and suffering: Including injury pain, post-traumatic stress disorder (PTSD), loss of quality of life, emotional anguish, psychological distress, suicidality
Medical expenses: For emergency transportation, hospitalization, surgery, medications, medical imaging, specialist appointments, rehabilitation, and other medical services
Caregiver costs: Including any part- and full-time caregivers the disabled individual requires
Lost income: And any other professional damages, including lost bonuses, lost retirement contributions, diminished earning power, and missed opportunities for promotions
Property expenses: Including the cost of repairing or replacing a damaged motorcycle
Disability-specific damages: Many of your damages will be specific to a disabling injury. For example, a disabled accident victim may need a disability-equipped vehicle, ramps in their home, and to live with a relative (or in another subsidized manner) for the remainder of their life.

Those who suffer disabling injuries in motorcycle accidents often experience hundreds of thousands in economic costs alone. We may find that your damages cost far more than this, especially after factoring in the non-economic cost of a disabling injury.

Why Hire an Attorney When You Have a Disabling Injury?
Hiring a lawyer is a logical decision for motorcycle accident victims who suffer disabling injuries.
Some of the most compelling reasons to rely on an attorney include:
Your injuries: Your disabling injuries are the most obvious reason to hire a personal injury lawyer. Even if you wanted to lead your own insurance claim or lawsuit, is it practical or safe to do so while you recover from a serious injury? No.
Your mental health: Disabling injuries aren't just physically taxing. These injuries can cause severe mental trauma, and you may have limited tolerance for stress. Considering that insurance claims and lawsuits can be immensely stressful, protect your mental health by hiring a personal injury lawyer.
A law firm's financial resources: Your personal injury law firm may have substantial financial resources. No matter which firm you hire, the firm generally pays for all case-related expenses. These are expenses like filing fees and expert fees that you might otherwise have to pay out of your own pocket.
A lawyer's experience with motorcycle accident cases: Whether they resolve your case through the insurance process or with a lawsuit, your lawyer will draw on prior experience to get the job done. This prior experience can help your lawyer make informed decisions throughout your case.
The low-risk proposition of hiring a personal injury lawyer: Most personal injury law firms charge their clients no upfront fee. The law firm only receives payment if the lawyer gets a settlement or jury award for the client. This means there is no financial risk for a motorcycle accident victim to hire a lawyer.

These are more than sufficient reasons for disabled motorcycle accident victims to hire an attorney. The question then becomes, which attorney?

What Criteria Should You Consider When Searching for a Motorcycle Accident Lawyer?
You can consider both objective and subjective criteria when hiring a lawyer.
Some of the objective criteria include:
The types of practice areas the law firm lists on their website
Case results (including individual and total financial recoveries)
Whether the firm has an office in or nearby the location where the motorcycle accident occurred
How many attorneys the law firm has on staff
Whether the law firm offers a contingency-fee structure, in which clients don't pay any upfront or out-of-pocket compensation to hire a lawyer

Some subjective (but important) criteria to weigh when seeking a motorcycle accident lawyer include:
What former clients say about the law firm
The answers to questions you ask during your free consultation
Your general impression of client service during your free consultation

Take full advantage of free consultations. Most firms offer them, and they are a chance to ask questions and feel out a prospective law firm.

How Will a Lawyer Fight for Your Financial Recovery?
Your attorney will provide start-to-finish legal services. Their sole mission will be securing the settlement or jury award that your damages entitle you to.

A motorcycle accident lawyer's responsibilities typically include:

Documenting Damages from Your Accident and Disabling Injuries
Your attorney may gather:
Medical bills and records
Images of your injuries
Past payment records to prove lost income
Invoices for property expenses, including repairs for your motorcycle
Any other documentation of damages

Documentation proves the exact cost of your motorcycle accident.

Building Your Case with Accident-Related Evidence
Your attorney will visit the accident scene if circumstances permit. They will seek video footage, witness accounts, and any other evidence that helps prove liability for your disabling accident.

Calculating the Value of a Fair Settlement
Attorneys calculate the cost of their clients' economic and non-economic damages. With disabling injuries, a lawyer may need to project the future cost of medical care and other disability-related damages.

Seeking a Settlement
Your representative law firm will demand a fair settlement. Negotiating is a skill, and an attorney's negotiating experience may be one of the greatest benefits they provide you.

Completing a Trial (as Necessary)
Some motorcycle accident cases require a trial, perhaps because liable parties refuse to offer a fair settlement. Your lawyer will handle every step of any necessary trial.

Who Is Financially Responsible for a Motorcycle Accident?
This varies on a case-by-case basis.
Potentially liable parties include:
A negligent motorist
A motor vehicle manufacturer who produced a defective car, SUV, truck, or motorcycle
A municipality that allowed dangerous road conditions
Any other party with direct or indirect liability for the motorcycle accident

Let your lawyer sort these details out. You deserve to focus on your health while your lawyer fights for a proper financial recovery.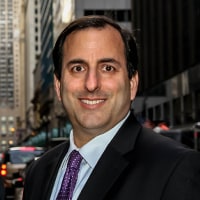 Hire a Motorcycle Accident Attorney as Soon as Possible
Don't wait to secure legal help. Your lawyer may face a strict filing deadline, and they surely want to gather evidence from your accident as soon as possible.

Find a personal injury law firm in Chicago today and get your case started.