Chicago Accident And Injury Lawyers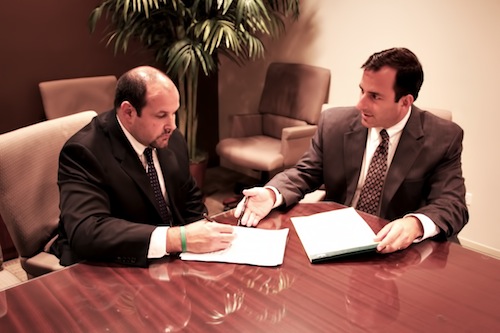 Abels & Annes, P.C. is a law firm that only works on personal injury cases. Further, we only represent plaintiffs, or accident victims. We do not handle any other types of claims and we never represent insurance companies.
The law partners at the firm are David Abels and Gary Annes. Both of them have concentrated on handling personal injury cases since 1997. Dave and Gary teamed up to form Abels & Annes, P. C. in 2008.
They have had tremendous success and have had the privilege of working on several high-profile cases. Their cases have been reported about on NBC, ABC, CBS, Fox and WGN News, the Chicago Tribune and the Chicago Sun-Times. They have also been in the Wall Street Journal, the Miami Herald and the Huffington Post.
What Makes Our Law Firm Different?
What makes Abels & Annes, P.C. different than other personal injury firms? For starters, we are a service-oriented law firm. When you call the office, you're going to get a return phone call. Further, you're going to know the attorneys working on your case, not just the legal secretaries or assistants. Dave and Gary try hard to make your experience with Abels & Annes, P.C. very personable. We get to know our clients.
We bend over backwards to make our clients happy. Most of our new business comes from past clients. This, because we made them very happy with strong results and good service. We pride ourselves on maintaining relationships with our clients, both past and present.
No Fee Unless You Win
We work on a contingency fee basis. If there is no financial recovery on your case, you would not owe us anything and our services would be free. For example, there is no insurance to cover the loss. Therefore, when you sign up with Abels & Annes, P.C., the risk is on us, not you. That means that when we sign up your case, we believe in you and we are ready to fight for you.
Further, we advance all costs for the prosecution of your case. So, unlike some law offices, you're never going to receive a phone call from us asking for money to pay a filing fee, deposition fee, etc.
We offer free consultations to those who have been injured in accidents. If you or your loved one are too injured to travel, we offer free in-home and in-hospital consultations. We also give free consultations over the phone. Our lawyers make themselves available 24 hours a day, seven days a week to evaluate your potential personal injury claim.
The legal team at Abels & Annes, P.C. believes in fighting for the rights of those who sustain injuries due to negligence.
About David and Gary
David Abels was raised in Evanston, Illinois. He attended Evanston Township High School, and then undergrad at University of Wisconsin – Madison. He then went to the John Marshall Law School, earning his juris doctor in 1994. Growing up Dave was an avid hockey player, playing through high school at Evanston and finally playing for the University of Wisconsin Badgers JV team in college. Dave currently resides with his family in Northbrook, Illinois.
Gary Annes was raised in Highland Park, Illinois where he went to Highland Park High School. He attended college at University of Illinois, Champaign and graduated from Loyola University Chicago School of Law in 1995. He currently resides in Highland Park, Illinois with his family.
David and Gary are both licensed to practice law in Illinois and Arizona, and each have over 20 years of experience working on personal injury cases.