Roman Drewniak
Associate
Download VCard
Phone: (312) 924-7575
Fax: (312) 924-7555
100 N LaSalle St #1710
Chicago, Illinois 60602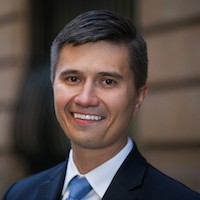 Roman Drewniak is an associate attorney at Abels & Annes, P.C. who has been employed at the law firm in various capacities since 2012. He speaks fluent Polish and has dedicated his career to helping personal injury victims. Roman focuses on all areas of personal injury, but also has experience in medical malpractice. Roman is often described as thorough, knowledgeable and approachable. He has a strong moral compass and will go above and beyond to make sure justice is served for his clients.
Roman was born in Breszko, Poland and moved to Chicago at the age of four. Growing up he attended Lane Tech College Preparatory High School as well as St. Maximillian Marian Kolbe Polish School. Roman attended undergrad at DePaul University with a degree in Political Science and a minor in Sociology. As a senior at DePaul, Roman began working as a law clerk at Brenner, Monroe, Scott & Anderson, Ltd., an insurance defense law firm in Chicago. There he gained valuable experience in the legal system, specifically with regards to medical malpractice defense cases.
Roman attended law school at Loyola University College of Law on a Merit's Scholarship. He was part of the first class to attend the Weekend JD program, which allowed him to continue working full time while simultaneously completing his Juris Doctor degree. Because of taking on a rigorous course load, Roman was able to complete his program and graduate one full year early. He also made the Dean's List, and obtained an Advocacy Certificate from the Dan K. Webb Center for Advocacy. Roman also prides himself in completing a Veteran's practicum at the Loyola Community Law Center Clinic. At the Veteran's practicum, Roman assisted veterans and their families with legal issues while using his Illinois Supreme Court 711 license.
Outside of his work as an attorney, Roman lives in downtown Chicago with his wife Gabrielle, who is an optometrist, and their charismatic corgi, Stanley. They are both active members of Old St. Patrick's Church, where they were married in 2019. Through the parish, Roman has become involved in many community organizations. As a first-generation American, he feels a strong desire to give back to the communities and knows he is extremely blessed to be in a position to help others on a daily basis.
At Abels & Annes, P.C., Roman assisted in the following claims for foreign speaking clients:
$118,000.00 settlement for a client who was struck by a vehicle while riding his bicycle the Chicago area. The client sustained fractures in his left leg.
$100,000.00 policy limits settlement for a Polish speaking client, who was rear-ended at a red light in Orland Park. The client sustained a torn rotator cuff requiring surgery.
$92,500.00 settlement for a Polish speaking client who was struck by a taxicab while on her way to work at the intersection of Washington and Michigan Avenue in Chicago. The client sustained a torn rotator cuff requiring surgery.
$67,536.56 settlement for a Ukrainian speaking client, who was struck by a vehicle while walking her dog in Park Ridge. The client suffered an impinged nerve and partially torn rotator cuff that was treated without surgery.
$60,027.20 settlement for a Polish speaking minor, who was in an accident as a passenger in a friend's vehicle in St. Charles. The client suffered a concussion and headaches.
$50,000.00 policy limits settlement for a client involved in a hit and run accident on the Northwest Side of Chicago. The client sustained a broken arm and treated without surgery.
Roman was sworn into the Illinois Bar in 2019 and is currently a member of the Advocate's Society, Chicago Bar Association, Illinois State Bar Association, American Bar Association, and the Illinois Trial Lawyers Association.