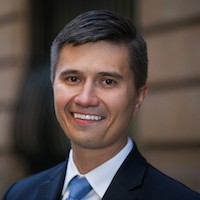 Roman Drewniak
Associate
Phone: (312) 924-7575
Fax: (312) 924-7555
A Dedicated Personal Injury Lawyer
Roman Drewniak is an associate attorney at Abels & Annes, P.C. He has been working at the law firm in various capacities since 2012. He speaks fluent Polish and is dedicating his career to helping personal injury victims.
Roman focuses on all areas of personal injury, with some focus in the area of auto accidents and medical malpractice. Others would describe Roman as thorough, knowledgeable and approachable. He has a strong moral compass and will go above and beyond to make sure justice is served for his clients.
Educational Background
Roman was born in Breszko, Poland and moved to Chicago at the age of four. Growing up he attended Lane Tech College Preparatory High School as well as St. Maximillian Marian Kolbe Polish School. Roman went to undergrad at DePaul University with a degree in Political Science and a minor in Sociology. As a senior at DePaul, Roman began working as a law clerk at an insurance defense law firm in Chicago. There he gained valuable experience in the legal system, specifically with regards to medical malpractice cases.
Roman attended law school at Loyola University College of Law on a merit scholarship. He was part of the first class to attend the weekend JD program, which allowed him to continue working full time while simultaneously completing his Juris Doctor degree. Because of taking on a rigorous course load, Roman was able to complete the program and graduate one full year early. He also made the Dean's List, and obtained an Advocacy Certificate from the Dan K. Webb Center for Advocacy. Roman also prides himself in completing a veteran's practicum at the Loyola Community Law Center Clinic. There, Roman assisted veterans and their families with legal issues while using his Illinois Supreme Court 711 license.
Personal Life
Outside of his work as an attorney, Roman lives in downtown Chicago with his wife Gabrielle, who is an optometrist, and their charismatic corgi, Stanley. They are both active members of Old St. Patrick's Church, where they were married in 2019. Through the parish, Roman has become involved in many community organizations. As a first-generation American, he feels a strong desire to give back to the community and knows he is extremely lucky to be in a position to help others on a daily basis.
Roman's Results
At Abels & Annes, P.C., Roman assisted in the following claims for foreign speaking clients:
$118,000.00 bicycle accident settlement in Cook County. The client had a left leg fracture.
$100,000.00 policy limits settlement for a Polish speaking client, who was in a rear-end collision at a red light in Orland Park. The client had surgery due to a rotator cuff tear.
$92,500.00 settlement for a Polish speaking client who was struck by a taxicab while on her way to work at the intersection of Washington and Michigan Avenue in Chicago. The client sustained a torn rotator cuff requiring surgery.
$67,536.56 settlement for a Ukrainian speaking client, who was struck by a vehicle while walking her dog in Park Ridge. The client had a partially torn rotator cuff without surgery.
$60,027.20 settlement for a Polish speaking minor, who was in an accident as a passenger in a friend's vehicle in St. Charles. The client suffered a concussion and headaches.
$50,000.00 policy limits settlement for a client involved in a hit and run accident on the Northwest Side of Chicago. The client sustained a broken arm and treated without surgery.
Super Lawyers Rising Star
Roman has been named as a Super Lawyers Rising Star.  This is an honor given to just 2.5% of lawyers under the age of 40 in Illinois.
Law License and Memberships
Roman was sworn into the Illinois Bar in 2019 and is currently a member of:
The Advocates Society
Chicago Bar Association
Illinois State Bar Association
American Bar Association
Illinois Trial Lawyers Association
Wyznaczony Prawnik Do Spraw Obrażeń Ciała
Roman Drewniak pracuje jako prawnik w Abels & Annes, P.C. Od 2012 roku pracuje w kancelarii na różnych stanowiskach. Biegle posługuje się językiem polskim, a swoją karierę poświęca pomocy ofiarom obrażeń ciała.
Roman koncentruje się na wszystkich obrażeniach ciała, ze szczególnym uwzględnieniem wypadków samochodowych i błędów w sztuce lekarskiej. Inni opisaliby Romana jako dokładnego, kompetentnego i przystępnego. Ma on silny kompas moralny i zrobi wszystko, aby zapewnić sprawiedliwość swoim klientom.
Wykształcenie
Roman urodził się w Breszku w Polsce i przeniósł się do Chicago w wieku czterech lat. Dorastając, uczęszczał do Lane Tech College Preparatory High School oraz do polskiej szkoły św. Maksymiliana Mariana Kolbego. Roman ukończył studia licencjackie na Uniwersytecie DePaul z dyplomem nauk politycznych i socjologii. Podczas czwartego roku w DePaul Roman rozpoczął pracę w kancelarii ubezpieczeniowej w dziedzinie obrony w Chicago. Tam zdobył cenne doświadczenie w systemie prawnym, w szczególności w sprawach związanych z błędami w sztuce lekarskiej.
Roman uczęszczał do szkoły prawniczej Loyola University College of Law, w której otrzymał stypendium za wyróżnienie. Był członkiem pierwszej klasy, która uczęszczała na weekendowy program JD, co pozwoliło mu kontynuować pracę w pełnym wymiarze godzin, jednocześnie uzyskując tytuł doktora nauk prawnych. Ze względu na rygorystyczne obciążenie kursami Roman był w stanie ukończyć program i ukończyć go o cały rok wcześniej. Zrobił również listę dziekanów i uzyskał certyfikat rzecznictwa z Dan K. Webb Center for Advocacy. Roman może również pochwalić się ukończeniem praktyk dla weteranów w klinice Loyola Community Law Centre. Tam Roman pomagał weteranom i ich rodzinom w kwestiach prawnych, korzystając ze swojej licencji Sądu Najwyższego w Illinois 711.
Życie Prywatne
Poza pracą jako prawnik Roman mieszka w centrum Chicago z żoną Gabrielle, która jest optometrystą, i ich charyzmatycznym psem rasy corgi, Stanleyem. Wspólnie z żoną Roman jest aktywnym członkiem Kościoła Świętego Patryka, w którym pobrali się w 2019 roku. Za pośrednictwem parafii Roman zaangażował się w wiele organizacji społecznych. Jako Amerykanin pierwszego pokolenia odczuwa silne pragnienie oddania się społeczności i wie, że ma ogromne szczęście, że może codziennie pomagać innym.
Wyniki Romana
W Abels & Annes, P.C. Roman pomagał w następujących roszczeniach dla klientów obcojęzycznych:
118 000 USD odszkodowania za wypadek rowerowy w Cook County. Klient miał złamanie lewej nogi.
Rozliczenie limitów polisy w wysokości 100 000 USD dla polskojęzycznego klienta, który uległ kolizji tylnej na czerwonym świetle w Orland Park. Klient przeszedł operację z powodu pęknięcia stożka rotatorów.
Ugoda w wysokości 92 500 USD dla polskojęzycznego klienta, który został potrącony przez taksówkę w drodze do pracy na skrzyżowaniu Washington i Michigan Avenue w Chicago. Klient doznał zerwania stożka rotatorów, co wymagało operacji.
Ugoda w wysokości 67 536,56 USD dla klienta mówiącego po ukraińsku, który został potrącony przez pojazd podczas spaceru z psem w Park Ridge. Klient miał częściowo zerwany stożek rotatorów, który nie wymagał operacji.
Ugoda w wysokości 60 027,20 USD dla polskojęzycznego małoletniego, który uległ wypadkowi jako pasażer w samochodzie znajomego w St. Charles. Klient doznał wstrząsu mózgu i bólów głowy.
Rozliczenie limitów polisy w wysokości 50 000 USD dla klienta uczestniczącego w wypadku drogowym w północno-zachodniej części Chicago. Klient doznał złamania ręki i był leczony bez operacji.
Super Lawyers "Rising Star"
Roman został uznany za "Rising Star" Super Lawyers. Jest to zaszczyt przyznawany zaledwie 2,5% prawników w wieku poniżej 40 lat w Illinois.
Licencja Prawnicza i Członkostwo
Roman został zaprzysiężony w Illinois Bar w 2019 roku i obecnie jest członkiem:
The Advocates Society
Chicago Bar Association
Illinois State Bar Association
American Bar Association
Illinois Trial Lawyers Association