How Our Lawyers Handle a Progressive Injury Claim
Careless people may cause accidents, leading to severe injuries. Common accidents that result from others' negligence include motor vehicle collisions, premises accidents, and construction site accidents.

As a result of the injuries that an accident victim suffers, they may need medical treatment at a hospital emergency room or urgent care facility. They might also need follow-up appointments with a primary care doctor or specialist.
Medical treatment and procedures can cost hundreds or thousands of dollars. If the accident victims have to miss time from work due to their injuries, this can place another financial strain on them and their families.

In most personal injury claims, your personal injury lawyer will deal with the at-fault individual's insurance company. In some cases, you may need to deal with Progressive, one of the major auto insurers in the U.S.

Insurance companies like Progressive have no incentive to fully and fairly compensate accident victims for their injuries. If the accident victim tries to represent themselves, even for a short time, the insurance company will take advantage of the situation and try to resolve the claim for as little money as possible.
Progressive does not care that claimants will not have the financial support they deserve. Like most major corporations, the insurance company cares first about its bottom line, often to the detriment of injury victims.

If you suffered injuries in an accident that someone else caused, your attorney can aggressively handle settlement negotiations with Progressive on your behalf and work to maximize the monetary recovery you ultimately receive for your injuries. Moreover, if the Progressive adjuster refuses to offer you the total compensation you deserve, your attorney can litigate your case in court.
Schedule a Free Initial Consultation
Common Personal Injuries
Individuals in accidents resulting from someone else's negligence may suffer severe injuries and damages. An accident victim's injuries will frequently depend on the type of accident, the body part or parts affected, and the amount of force involved in the accident.
Some of the most common injuries that accident victims suffer include soft tissue neck and back contusions, rib fractures, bone fractures, eye injuries, mouth and jaw injuries, traumatic head and brain injuries, internal bleeding, internal organ damage, spinal cord injuries, full or partial paralysis injuries, and death.

If you suffered any of these injuries in a recent accident, attend all necessary medical appointments and follow your treatment plan. You might need surgery or regular physical therapy visits to regain strength and endurance.
Whatever your medical treatment regimen, do everything your providers recommend. Otherwise, Progressive may assume that your injuries are not severe and offer you far less than your case is worth.

While you focus on fully recovering from your injuries, our legal team can begin handling the legal aspects of your case and gathering the necessary documents to prove your case, such as medical treatment records and bills to date.
After completing your medical treatment, we can assemble these documents into a settlement demand package to send to the Progressive adjuster. We can then begin negotiating with the adjuster for favorable settlement compensation on your behalf.
Types of Personal Injury Cases
Personal injury claims and lawsuits arise when individuals behave negligently under the circumstances. Essentially, an individual or entity is negligent when they fail to act like a hypothetical reasonable person should have acted in the same situation.
Alternatively, a party may be negligent if they take some action that a reasonable person should not have taken in the same circumstances.
If you suffered injuries in any of these accidents, you must speak with experienced legal counsel as quickly as possible about your case.
Some of the most common accidents that result from the negligence of others include:
Pedestrian accidents
Motorcycle and bicycle accidents
Car and truck accidents
Amusement park accidents
Boating accidents
Swimming pool accidents
Premises accidents (including slip and falls)

Your lawyer can file a claim with the at-fault party's insurer and pursue the maximum monetary damages in your case.

Proving a Personal Injury Claim or Lawsuit
To recover monetary damages in a personal injury case that involves Progressive, the accident victim must first satisfy their legal burden of proof.
First, the accident victim's legal team must show that the at-fault party owes them a legal duty of care that they subsequently violated.

For example, in a premises accident, the accident victim must demonstrate that a premises owner had a duty to maintain their premises in a reasonably safe condition for the benefit of those (including customers) who visit the premises. More specifically, a property owner normally has a duty to repair (or at least warn about) known property defects within a reasonable time.

In addition to proving that the at-fault party owed them a legal duty of care, the accident victim must demonstrate that the other party violated this legal duty. In the above-mentioned premises accident, the property owner might have failed to warn about or repair the defective condition within a reasonable time despite knowing about it well before the occurrence.

In addition, the accident victim must demonstrate that the accident and injuries occurred as a direct result of the other party's duty-of-care violation.

To make sure your case satisfies this legal burden of proof, your attorney can retain various experts to testify in your case. For example, an accident reconstructionist can visit the scene, speak with witnesses, and reach a conclusion about how the accident happened and who was at fault.
If Progressive denies liability for the accident, an accident reconstructionist can be an especially helpful witness in your case.

Similarly, your attorney can retain a medical expert who can testify in your case. A medical expert can state, to a reasonable degree of medical certainty, that your claimed injury or injuries directly resulted from the accident.
An expert medical provider can also testify in your case at a deposition or jury trial. Medical experts can help in cases where Progressive insists that the accident did not cause the victim's claimed injuries. A medical expert can also testify that the accident victim sustained one or more permanent injuries.

Negotiating an Insurance Claim with Progressive
If you are dealing with Progressive Insurance Company, you should never accept the first settlement offer that an adjuster places on the table. Initial offers are routinely far less than the actual value of the personal injury claim.

Progressive adjusters try to offer accident victims as little monetary compensation as possible to resolve their claims so that they can save themselves significant amounts of money.
After all, insurance companies like Progressive do not make money by paying out large personal injury settlements. Instead, they make money only when they collect premium payments from their insureds and keep as much of that money in-house as possible.

Your personal injury attorney can aggressively fight for your legal interests by highlighting your case's various strengths, including solid evidence of liability or medical records demonstrating the severity of your injuries. They can also downplay any weaknesses in your case, such as minor gaps in your medical treatment.
A personal injury attorney can also proceed to litigation if they do not significantly increase their settlement offer. Sometimes, this will spring the insurance company adjuster into action to save the time and cost of litigation.

Your attorney can answer all your legal questions and fight for the monetary compensation you deserve from the insurance company.

Litigating a Progressive Insurance Claim
A personal injury case may require litigation.
First, the insurance company may deny fault or liability for the subject accident, claiming that the accident victim caused or contributed to their own accident or injuries.
At other times, the insurance company might argue that an accident victim's injuries are pre-existing or that they are not related to the subject occurrence.
In either of those situations, your personal injury lawyer may recommend litigation if the insurer sticks with these false allegations.

Litigation begins when a personal injury attorney files a lawsuit in the court system on the accident victim's behalf. Once that happens, an insurance company (i.e., Progressive) will retain legal counsel to represent the at-fault party in the case. That attorney will then enter an appearance in the case and file a formal answer to the accident victim's lawsuit.
Once that happens, the parties will typically engage in a process known as discovery. During discovery, the parties will continue exchanging documents, answer written Interrogatories, and attend one another's depositions.

If the defense attorney notes your discovery deposition, your lawyer can prepare you with the questions the defense counsel will likely ask and discuss with you how you should answer those questions. Also, during litigation, the parties may continue their settlement negotiations and attend one or more settlement conferences with the court.

If the personal injury claim has not settled by the end of the litigation process, the parties may take their case to a civil jury trial in court. During this court proceeding, the parties will introduce evidence, call upon witnesses to testify, and allow the jury to render a verdict.

In some cases, Progressive will entertain alternative dispute resolution (ADR) instead of a jury trial. Pursuing ADR in a personal injury case takes away some of the uncertainty and increases the accident victim's chances of recovering monetary compensation in their case. For example, in a binding arbitration hearing, the parties must select a neutral, third-party arbitrator to hear evidence in the case and decide the issue of monetary damages.

Your attorney can advise whether to settle your case, given your unique circumstances, or pursue litigation in the court system.

Recovering Monetary Damages in a Personal Injury Case With Progressive
In a Progressive personal injury claim, accident victims can recover different monetary damages, depending on the severity of their injuries, the extent of their medical treatment, the cost of their medical treatment, whether they missed work time, and other accident-related factors.
First, an accident victim can pursue monetary compensation for both their past and anticipated medical costs. If they had to take time off work to attend medical visits and recover from their injuries, they might be eligible for a lost income claim or loss of earning capacity.

In addition to recovering compensation for their out-of-pocket losses, they can pursue monetary damages for their mental distress, pain and suffering, inconvenience, lost quality of life, loss of spousal consortium, lifetime care costs, loss of the ability to use a body part (for example, a full or partial paralysis injury), and permanent disfigurement or disability.

A knowledgeable personal injury attorney in Chicago can tell you the likely types and amounts of monetary damages you may recover in your case based on your unique circumstances.

Speak With an Experienced Personal Injury Attorney in Your Area Today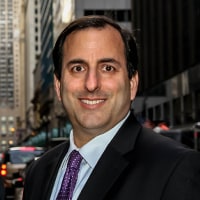 If you sustained injuries in an accident that resulted from someone else's negligence, get the legal representation you need as quickly as possible.
Accident victims have only two years, starting on the accident date, to file a lawsuit for monetary recovery. If they fail to follow the applicable statute of limitations and do not file a timely lawsuit in their case, they will not be eligible to recover any monetary damages for their injuries.

A top-rated Chicago personal injury law firm's attorney can handle every aspect of your case and work to pursue the highest amount of monetary damages you need, depending upon your circumstances.