There also aren't as many passenger vehicles on the roads because more people are staying home, meaning that the ratio of trucks to passenger vehicles is skewed much higher than it used to be. With the world changing like this, it's likely that delivery truck accidents will become more and more common, as we continue to get most of the things we use everyday from online vendors. Read on to learn more about the injury claim process with our Phoenix truck accident attorneys after being involved in a delivery truck accident.
There are many more delivery trucks on Phoenix roads these days with the massive increase in online ordering. Couriers like Amazon, UPS, USPS, FedEx-and all the other miscellaneous trucks working to keep stores stocked-have increased with the online age and because of the coronavirus pandemic. Although these trucks have become an everyday sight around us, they are still especially dangerous. Large trucks caused 4,863 fatal accidents in 2018, and that number will presumably only go up as the number of trucks on the roads increases. Truck accidents can turn a person's entire life upside down, leaving them with loads of medical bills, lost wages, and pain and suffering.
Just in the last year alone, there has been a large increase in the number of delivery trucks out on the roads. Because more people are staying home and working from home, there are many more services being ordered from home instead of shopped for in-store. Companies like Amazon can deliver anything you'd ever need, often within 1-2 business days. Other companies use UPS, USPS, and FedEx for their fulfillment services, increasing the amount of all of these delivery vehicles.
When you consider the rise in popularity of services like grocery delivery and subscription boxes, it really makes clear just how many more packages are being delivered.
What Causes Delivery Truck Accidents
Delivery truck accidents share similar causes as commercial truck accidents, as these drivers are often as overworked and underpaid as other commercial drivers. However, in many cases, the cause of delivery truck accidents falls at the feet of the driver because of issues like distracted driving, driving while under the influence, speeding, inexperienced driving, and more. Delivery truck drivers may also suffer from fatigue more frequently than regular passenger car drivers as they spend much more time behind the wheel.
Distracted driving is a big problem with delivery drivers, especially those required to use devices while driving. Some may use tracking software, GPSs, and other devices used by the company they work for to help make the process more efficient. The improper use of these tools, and using them while driving, can cause serious problems for other drivers on the road.
American Addiction Centers performed a survey of commercial drivers and found that 50% of drivers have consumed alcohol while driving. According to the survey, another 30% of truckers have taken amphetamines while driving. Driving while under the influence of drugs or alcohol is incredibly dangerous and can cause slow reaction times, poor decision making, speeding, swerving, and other reckless actions. All of these dangerous behaviors obviously amount to an increased risk of motor vehicle accidents.
Delivery truck accidents may also be caused by poor vehicle maintenance, improper training, improper loading of the vehicle, or a vehicle malfunction due to a recalled part. These are all examples of causes in which a third party may be liable, rather than the driver. In these instances, an experienced personal injury attorney can help you to sort out who was at-fault if you are injured by a commercial or delivery truck.
Types of Delivery Trucks
There are many different types of delivery trucks, and each company uses different ones. Some will use smaller vans for home deliveries while utilizing larger commercial vehicles to transfer packages from facility to facility. It all depends on what's being transported and where.
Some of the most common types of delivery trucks include:
Walk-In Trucks
Cargo Vans
Box Trucks
Semi Trucks
Who is Responsible for Delivery Truck Accidents?
Determining liability for your accident is one of the first steps in forming your lawsuit. This step will occur during the initial investigation period. Once your lawyer takes on your case, they will look into what happened to determine who was at fault for your accident. They may read police reports, pull traffic camera footage, speak with witnesses, have the truck assessed, and speak with the delivery company or their insurance carrier.
In many cases, the driver is responsible for the accident because of their own negligence speeding or using their phone while driving. However, it is not unusual for the delivery company to be liable because of overscheduling employees, not taking proper care of their vehicles, or some other form of negligence that is out of the driver's control.
Damages in a Delivery Truck Accident
If you were injured due to a delivery truck accident, you can claim damages for both economic and non-economic losses.
Economic damages
are any financial losses that can easily be calculated, such as medical bills and lost wages. These types of damages make up the bulk of a personal injury claim.
Non-economic damages
cover losses that are non-monetary, like:
pain and suffering
loss of companionship
compensation for permanent disability or disfigurement
Non-economic damages are subjective and can be harder to prove than economic damages. They are more significant in cases with serious injuries and in situations where someone's negligence caused a death. Because of the complicated nature of the damages, a skilled lawyer is crucial in cases that involve injury or death.
Pursuing Compensation from a Delivery Driver or Company
It may be intimidating to think about trying to recover compensation for your injuries from a delivery company. However, it doesn't mean they are any less responsible. An experienced Phoenix truck accident attorney will make sure that your case is handled correctly and that all avenues of compensation are explored.
When suing a company directly, having an attorney is vital since these cases can be much more complicated than passenger car accident cases. As we've already mentioned, delivery truck accidents may involve multiple liable parties and they will almost certainly have a well-funded legal team. Hiring an attorney who understands how to challenge larger corporations and insurance companies in and out of the courtroom is imperative in these situations.
Contact a Phoenix Delivery Truck Accident Attorney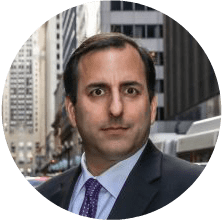 If you were injured in a delivery truck accident, contact the experienced attorneys at Abels and Annes. We have decades of experience working on lawsuits against trucking companies, as well as lawsuits involving third-party liability. We can help you get the compensation you need while you focus on recovering from your injuries. For more information, please contact us online or call us at (602) 819-5191.