​How Can You Tell Who Hit Who in a Car Accident?
In one recent year alone, motor vehicle accidents caused 4.8 million medically consulted injuries. In addition, the total costs for motor-vehicle injuries were over $473 billion. This estimation includes the costs of wage and productivity losses, medical expenses, motor-vehicle property damage, administrative expenses, and employer losses. When damages and injuries arise from a car accident, someone must pay them. When someone hits you or does something to cause an accident then contact a
car accident lawyer
, you shouldn't have to pay for the expenses.
Determining Fault in a Car Accident
Attorneys can use several pieces of evidence in an accident investigation to prove who was at fault in causing an automobile collision.
The Police Report
No matter the jurisdiction, drivers involved in an accident that results in injuries or fatalities must report it to the nearest police or sheriff's department immediately. Suppose a driver can't make the report due to their injuries or otherwise being incapacitated. In that case, their passengers should do it on their behalf. Also, someone should call law enforcement if a vehicle has such serious damage that the driver needs a tow truck. Once they arrive on the scene, law enforcement officers will begin a preliminary investigation into what caused the motor vehicle accident. They will:
Look for clues on the road, such as tire skid marks
Examine the damage to the vehicles involved
Police might determine the cause of the accident by:
The extent of damage to the vehicles
The point and angle of impact
The road conditions
Where the vehicle(s) ended up after colliding
During their investigation, the police will try to determine if any drivers broke traffic or other laws leading up to the accident. For example:
Did a driver run a red light?
Did a driver merge without looking to see if there were vehicles in the other lane?
Was either driver under the influence of alcohol or drugs?
This is a crucial aspect of any motor vehicle accident investigation, as a legal violation might point to the cause of an accident. If a driver did break the law, they will likely receive a warning or a ticket. For injured parties, this is good news because the at-fault driver breaking the law is one way an attorney can establish negligence in a car accident claim. Whenever possible, law enforcement officers should speak to the drivers, passengers, and eyewitnesses and obtain written statements from them. In addition, anyone who the police interview should give objective and accurate information without making assumptions about who can be at fault for the accident. After their investigation is complete, the police will write an accident report. Not only does this report include a lot of relevant information, it typically offers the officer's opinion about who hit who and who is responsible for the accident. Even if no one
suffered an injury
or died in an accident, you should still file a written report with the appropriate law enforcement agency within five days. In many jurisdictions, this is also a legal requirement. Making such a report is also essential to protect yourself. For example, you may not seem to have injuries immediately after the accident. Still, several days later, you can start to experience symptoms and find out you do have a diagnosed injury. Having made the police report will help corroborate your injuries.
Eyewitnesses
Even though the police will likely have spoken to eyewitnesses, you and your attorney can also attempt to do so. Sometimes their names and contact information will be listed on the police report. If drivers or passengers can, they can also collect that information directly from any eyewitnesses at the scene. Their accounts can be invaluable in piecing together what happened to cause the accident and, therefore, who is at fault. In fact, it's better to speak to eyewitnesses as soon as possible and get their statements, as memories can quickly fade. Your attorney can contact them for a recorded statement.
Pictures and Videos of the Accident Scene
Smartphones come in handy after an accident. It's now easier than ever to grab your phone and take pictures or videos of the accident scene. Suppose you aren't able to do so. In that case, your attorney can use pictures taken by a passenger or an eyewitness or even within the police report. You can even return to the scene within the next few days to take pictures that might still reveal skid marks from your car or the way one road intersects with another. You never know what might serve as valuable evidence in your claim. Try to take pictures or videos from the perspective of each driver in the moments leading up to the accident. Capture photos of traffic signs, lane markings, traffic lights, roadside objects, barriers, and any potential visual obstructions. Don't forget to take pictures of the road's surface, also, including any road imperfections like potholes. Even if taken after you return to the scene, all of these depictions can provide crucial clues as to who hit who.
Your Injuries
You should also take pictures of your injuries. They will serve as proof of the physical damage the car accident caused you and will help document the type and extent of your injuries. In addition, your injuries can help indicate who hit who by showing how your body moved in the accident or which side or area of your body sustained injuries. Always understand that it's not only the pictures of your injuries that can establish who and what caused the accident. Anyone involved in a motor vehicle accident should see a licensed physician as soon as possible to receive a diagnosis and any necessary treatment. You should seek medical evaluation even if you don't feel injured or experience any injury symptoms. It's entirely possible to suffer injuries in ways you won't feel pain or discomfort or experience noticeable symptoms, such as with a
concussion
, or to suffer injuries in ways that will show up later, such as soft tissue injuries. Internal bleeding and organ damage are severe and even life-threatening injuries that frequently won't present with many symptoms, but skipping out on medical care can prove deadly. Doctors and nurses record note about your injuries and your descriptions of how they happened. These go in your medical records and can be submitted as evidence later. Additionally, if who hit who is in question, testimony from a medical care provider about how your injuries likely happened or the mechanism that caused them can help identify the truth.
Surveillance Cameras
Surveillance cameras are in more public places than ever before. Not only are they found in traffic, but they are also common at businesses and even private residences. There's always a chance that your accident or what led up to it was on a surveillance camera. Law enforcement will often check to see if your accident was on camera, but you can also check. The sooner, the better, as many of these cameras only save the footage for a few days or weeks. There is no better proof of how an accident occurred than video evidence.
Forensic Analysis
Some accidents are quite complex, requiring the expertise of a forensic analyst to perform a thorough accident evaluation using the available evidence. These analysts can often determine the probable trajectory and speed of the vehicles involved, the point of impact, and who hit who by examining photos, videos, police reports, medical records, and eyewitness accounts of the accident.
Why Who Hit Who Matters
When you suffered an injury in an accident that isn't your fault, the liable party should pay for your damages. In short, determining who hit who helps to determine legal liability. The more accuracy with which a car accident attorney can answer that question, the better the lawyer's odds of identifying all parties with potential legal liability to their client, and the higher the likelihood they can recover the full amount of compensation the law allows on behalf of their injured client. In many accidents, the driver of the car that hit you must assume legal liability for anyone seriously injured in the collision. Typically, that driver will have liability insurance that compensates those the insured driver injured. Sometimes the driver who did the hitting isn't the only party with potential legal liability for a car accident. For instance, when a commercial vehicle does the hitting, its owner and the driver's employer can have legal liability for the resulting injuries as per state laws. Employers generally have legal responsibility for the behavior of their employees, whether behind the wheel or otherwise. They are also accountable for ensuring their employees have safe vehicles to drive. "Who hit who?" can also help determine liability on the part of the hitting vehicle's manufacturer. If, for instance, it appears that one vehicle hit another because the first vehicle's brakes malfunctioned or failed, then that vehicle's maker can face strict liability according to the state's product liability laws. These statutes hold manufacturers liable for damages if a vehicle's defect makes it unreasonably dangerous to the general public who will use it or have exposure to it.
What if the Insurance Company Doesn't Offer a Fair Settlement?
Insurance companies whose insured drivers hit someone often attempt to pay injured parties less than they deserve. Unfortunately, that's the nature of the auto insurance business; the less money insurance companies have to pay in claims, the more money they can keep for themselves as a profit. So there's an inherent conflict of interest. As such, insurance companies and their adjusters frequently employ sneaky tactics to trick injured motor vehicle accident victims into settling for much less compensation than they deserve for their injuries. Insurance companies may blame the victims for the accident or argue the
type or extent of their injuries
. They swoop in and offer quick, lowball settlements before injured parties have time to seek the sound advice of a car accident attorney. They want victims to need the cash right away and therefore be willing to forgo valuable legal rights in return for a quick settlement. However, those injured in car accidents must always speak with an experienced car accident attorney before discussing with an insurance carrier. Attorneys are well-versed in negotiating full and fair settlements with insurers on behalf of their injured clients. Having legal representation helps level the playing field and safeguards accident victims from insurance company trickery. Insurance companies are much less likely to play tricks on injured claimants when they have their own legal counsel involved. They know that the attorney will quickly recognize their tricks and shut them down. In addition, car accident lawyers work with investigative teams and expert witnesses as necessary on a case-by-case basis. Sometimes showing a difficult insurance company who-hit-who in a car accident calls for extensive research and piecing together evidence from several sources. Lawyers excel at these tasks.
What are At-Fault Parties Liable For?
At-fault parties in a motor vehicle collision (or their insurance companies on their behalf) are liable for the economic and non-economic or compensatory damages the victims incur due to the accident. Economic damages include:
Past and future lost wages and income
Past and future medical bills
Property damage
Other out-of-pocket accident-related expenses
Non-economic damages include:
Scarring and disfigurement
Mental anguish
Loss of enjoyment of life
While economic damages are worth their face value, non-economic damages can be difficult to put a price tag on. Typically, they are worth between 1.5 and five times the value of the injured party's economic damages, depending on the type and severity of their injuries or resulting disabilities.
Call an Experienced Car Accident Attorney Today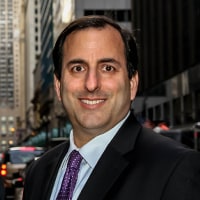 If you were recently involved in a car accident and suffered injuries, consult with an experienced car accident attorney as soon as possible. You want to exercise your legal rights while the evidence to prove who caused the accident is still fresh and available.
---
Chicago Office
100 N LaSalle St #1710 Chicago, IL 60602 Toll Free:
(855) 529-2442
Phone:
(312) 924-7575