Pedestrian Rights in a Crosswalk
Your Right-of-Way in a Crosswalk
Pedestrians have certain rights in crosswalks, though motorists do not always abide by these laws. However, you do have some extra rights when you properly use a crosswalk.
If a crosswalk does not have signals, or if the signals are not working, vehicles must stop for you if you are in the crosswalk on the same side of the road as the vehicle traveling toward you. Thus, if you step off the right curb into a crosswalk, vehicles on the right must stop for you, but vehicles on the left may continue traveling until you get near the center of the road.
Motorists must give you the right of way if a stop sign or flashing red signals are working at the crosswalk.
Read on to learn more about pedestrian laws regarding the crosswalk and what you should do after you have been in a pedestrian accident. The
Chicago pedestrian accident attorneys
at Abels & Annes, P.C. have the answer for you.
When a Vehicle Has the Right-of-Way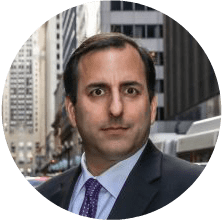 If you are crossing the road where no crosswalk exists, you do not have the right-of-way. Moving vehicles also have the right-of-way at intersections that do not have marked or unmarked crosswalks. If you choose to cross the road instead of using a tunnel or overhead walkway, vehicles have the right-of-way. Additionally, if two adjacent intersections have working signals, you must use a crosswalk instead of crossing between the two intersections, unless you are disabled—and even then, vehicles have the right of way. Finally, unless a police officer or a construction worker is managing traffic, or a crosswalk directs you to do so, you cannot cross a road in a diagonal direction. Even though you might have to give the right-of-way to motorists in limited circumstances, they must "exercise due care," according to
Illinois Rules of the Road
. The section directs motorists to avoid hitting a pedestrian or someone on a bicycle crossing the street, even if that person crosses illegally.
Injuries You Could Suffer in a Pedestrian Accident
The seriousness of your injuries depends on the speed of the motorist and the angle at which the motorist hits you. Common injuries include:
Bumps, bruises, scratches, scrapes, and cuts;
Road rash;
Sprains, strains, torn muscles, pulled muscles, and other soft tissue injuries;
Simple and/or compound fractures;
Head, neck, and shoulder injuries;
Back and spinal cord injuries;
Internal injuries;
Paralysis;
Traumatic brain injuries; and
Death.
When people have underlying health issues, such as diabetes and immunodeficiency diseases, or are taking drugs or are on treatments that lower the immune system, injuries could take longer to heal. The risk of infection or other complications rises. Always let your pedestrian accident attorney know if you have an underlying condition that could slow or affect the healing process.
Staying Safe in a Crosswalk
Never assume that a motorist will stop for you, even if you have the right-of-way. Some may not see you, some may drive under the influence of drugs or alcohol, and some may distract themselves with phones. Always stop and look both ways when crossing, even when you have the right-of-way. Do not text or read and walk at the same time, especially when crossing the road, even in a crosswalk.
Recoverable Damages
If a car hits you a crosswalk, you might recover special and general damages, including:
Special Damages
Economic damages, or special damages, have a specific price tag. While money does not bring back a loved one or heal permanent disabilities from accident injuries, it does help you stay financially stable, which reduces some of the stress you might have after the accident. Special damages include:
Past medical expenses;
Future medical expenses, including additional surgeries, followup appointments, cognitive therapy, physical therapy, and psychological therapy;
Past lost wages;
Future lost wages;
The replacement or repair of personal property damaged or destroyed in the accident;
Medical equipment, including ambulatory aids; and
Funeral and burial expenses.
General Damages
Non-economic damages, or general damages, do not have a specific price attached to them. General damages include:
Pain and suffering, including emotional suffering;
Depression, anxiety, and post-traumatic stress syndrome;
Disfigurement;
Paralysis;
Loss of companionship;
Loss of consortium;
Loss of use of a body part or function, such as a hand or your eyesight;
Long-term or permanent disabilities due to accident injuries; and
Inconvenience.
How Bad Is the Problem?
In the United States, according to the National Highway Transportation Safety Administration, of the 37,133 traffic fatalities in just one recent year,
5,977 were pedestrians
. In Illinois, during the same year, of the 1,097 people killed in traffic fatalities, 145 were pedestrians. In the United States, 18 percent of the pedestrian fatalities were in crosswalks, while 73 percent were not in an intersection. The balance—9 percent—happened in other places, such as parking lanes, on the side of the road, sidewalks, medians, non-traffic areas, driveways, and shared-use trails and paths.
What Should You Do Next?
If you were in a crosswalk pedestrian accident or lost a loved one in a crosswalk pedestrian accident, contact an experienced
pedestrian crosswalk accident attorney
to learn more about your rights to compensation.
---
Abels & Annes
100 N LaSalle St #1710 Chicago, IL 60602 (312) 924-7575