Where you injured while riding a Pace bus?
The City of Chicago is not the only area serviced by public buses. In fact, if you live in or work in the suburban areas surrounding Chicago, odds are that you are familiar with the Pace Suburban Bus Service, commonly referred to as Pace.
Unlike some other public transit providers, Pace offers a great deal of flexibility to its riders in the types of transit offered. Many users take advantage of Pace's fixed route bus system, where buses run along designated routes at specified times, picking up and dropping off riders along the way.
Others with physical limitations partake in Pace's ADA/paratransit service as they move about the service area offered by the transit company. And yet others utilize Pace's vanpool incentive program, a means to allow coworkers or associates to commute with one another while saving time and money.
When you consider that Pace offers fixed route service, dial-a-ride options, and vanpools, it may seem like the needs of anyone interested in public transit should be covered.
But the availability of transit is not the only issue related to Pace bus services as safety remains a common concern over those who ride with Pace. From boarding a vehicle to disembarking, countless issues can arise that can lead to an unsafe environment for bus passengers and bus operators alike. In the most significant instances, a bus accident or other collision may result and may cause those on board to be injured. If you or a loved one has already suffered injuries on a Pace Bus Service then learn what the Chicago Public Transportation Lawyers at Abels & Annes, P.C. can do for you.
It's the Driver's Responsibility to Prevent Pace Bus Accidents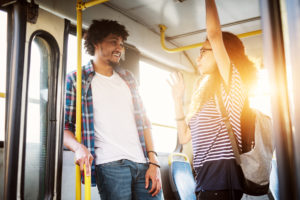 Employees who drive buses and other vehicles on behalf of Pace must be properly trained and licensed to do so, providing them with the knowledge and skills they need to operate in a safe and reasonable manner. If a driver is not trained in an adequate manner or if that operator has not passed the necessary licensing tests, those on board the bus or inside the vehicle may be at risk for harm. The harm may stretch to those in other types of automobiles including accidents like:
Further, each Pace bus operator is charged with putting their passengers' safety at the forefront of the decisions they make. Bus drivers are prohibited from operating in an aggressive or reckless fashion or in a way that would create an undue risk of harm to those on board or those who are entering or exiting the vehicle and they must stay alert at all times. Failing to do so may lead to injuries or other harm among Pace passengers or those in the area of a Pace bus.
Even with these clear requirements, Pace buses continue to be involved in accidents when those driving the vehicles err or make mistakes. Any wrong decision by a driver can place dozens of lives at risk and can alter the course for those on board forever with some victims needing medical help and others facing many different types of injuries, some that will never fully heal. For those reasons, it is important for anyone who utilizes Pace's services to be aware of their legal rights should a collision take place.
Getting Compensation for Victims of Illinois Pace Bus Accidents
If you were involved in an accident while a passenger on a Pace bus or if you were in a vehicle that was hit by a Pace bus, know that you are protected under state and local laws and that you may be entitled to relief. However, you must take affirmative action within a time period specified by law or you will be forever barred from seeking the relief that you deserve.
The personal injury attorneys at Abels & Annes, P.C. have been representing Pace accident victims for years and we are familiar with the steps that must be taken to provide our clients will the relief that they deserve. If you were hurt, we want to help you as well by offering you a no-cost, no-obligation case consultation when you call us toll free at (855) LAW-CHICAGO (529-2442) or locally at (312) 924-7575. We have a lawyer standing by 24 hours a day to speak with you and we will talk about the specific facts surrounding your accident.
The legal team at Abels & Annes, P.C. does not charge its clients a fee unless we are successful in their cases and we advance all case-related expenses so do not let those concerns keep you from reaching out to us. Call us today at (312) 924-7575 or contact us online so that you can get the answers you need regarding your legal rights in Illinois.
If you were injured in a Pace Suburban Bus Service accident, call Abels & Annes, P.C. toll free at (855) LAW-CHICAGO or Contact Us online for a free case consultation.