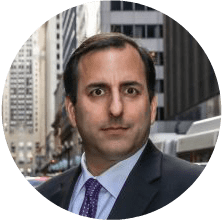 If you get a little flutter in your chest every time you get in a car, you're not alone. Driving can be scary. According to the Illinois Department of Transportation, there were 311,679 accidents in 2017. That's 854 accidents per hour! Of these accidents, over 10 percent were broadside collisions.
Broadside collisions, more commonly referred to as side-impact crashes or T-bone collisions, happen when the front of one vehicle collides with the side of another. These accidents are particularly dangerous to the vehicle that is hit. Understanding where these accidents most commonly occur can help you stay safe on the road.
Where Do Most Broadside Accidents Occur?
The vast majority of broadside collisions occur at intersections. Such accidents require that the vehicles are traveling in directions perpendicular to one another. This rarely happens outside of an intersection. An intersection is defined as a location where two roads meet. Intersections are not defined by whether they have a traffic signaling device or the amount of traffic that they see. An intersection can be found in a neighborhood, in the city, and even in parking lots. The most common location for broadside accidents include:
Intersections With Stoplights
Traffic signals are designed to direct traffic at busy intersections, and most of the time that's exactly what they do. However, while most drivers obey traffic signals, Chicago still has a serious problem with drivers running red lights. In 2003, the state became one of the first to install red-light traffic cameras to reduce the number of drivers running red lights. Over a decade later, however, some officials are calling for the removal of the cameras, citing Chicago's $56 million in annual revenue from red-light cameras as proof that these devices do not deter drivers from running red lights.
Intersections With Stop Signs
Intersections with a moderate amount of traffic are often controlled by stop signs. Unlike stoplights, stop signs require a higher level of judgment and decision-making from drivers. When a driver approaches a stop sign, he or she must stop and scan for other vehicles. If another vehicle is there first, the driver of that vehicle has the right-of-way. T-bone collisions often occur when the two drivers become confused over who has the right-of-way, or when one driver ignores the law and proceeds through the intersection, failing to realize that the other driver has already begun to move through the intersection.
Unprotected Left-Hand Turns
Drivers make left-hand turns every day without even realizing that this is one of the most dangerous traffic maneuvers. Of most concern are unprotected left-hand turns, which take place at intersections where there is no traffic device or at green lights where drivers must yield to oncoming traffic. The reason these turns are so dangerous is that drivers must rely on personal judgment to determine when they should turn in front of oncoming traffic. If a driver does not accurately gauge the amount of space he or she has to complete a turn, an accident may result.
Common Causes for Broadside Collisions
We know where broadside collisions occur, but understanding why they occur is just as important. While most accidents come down to driver error, this is not always the case. The most common causes for broadside collisions include:
Distracted driving: Distracted driving is a serious problem. In one year, 3,166 people died because of a distracted driver. When a driver takes his or her eyes off the road to attend to a text, take a bite of a cheeseburger, or change the radio station, the driver may miss an upcoming intersection.
Driving under the influence: Driving under the influence of drugs or alcohol diminishes a driver's ability to make good decisions on the road. Alcohol can make a driver think that he or she can "make it" at a red light or that stopping at an intersection doesn't matter.
Speeding: Speeding is one of the top causes of fatal accidents across the country. When it comes to broadside collisions, a speeding driver can make it difficult for a person to estimate how much time he or she has to complete a left-hand turn. In addition to influencing the likelihood of a broadside collision, speeding also increases the severity of injuries in a crash.
Weather: Not all broadside collisions happen because of driver error. Poor weather can make it difficult to see oncoming traffic.
Inadequate traffic devices: Have you ever approached a stop sign and thought, "Man, I barely saw that"? Hidden, damaged, or non-existent signal devices can contribute to an accident. Local jurisdictions have the responsibility for properly maintaining stop signs and traffic signals. If the government knowingly disregards calls to remedy inadequate traffic devices, a court may hold the government responsible in the event of an accident.
Damages After a Broadside Collision
When you are involved in an injury crash, the law allows you to file a claim against the at-fault party. This claim can help offset the cost of your treatment and help you focus on your recovery. Common damages in a personal injury case include:
Medical bills
Lost wages/future lost wages
Medical devices
Pain and suffering
Loss of enjoyment
Loss of consortium
Wrongful death
The costs associated with a personal injury claim will vary case by case. A personal injury attorney can help you determine the value of your case and do an accounting of the actual and potential costs of your injury.
Know When to Contact a Car Accident Attorney
After an accident, you shouldn't have to worry about how you are going to pay your bills or if you can afford to get medical care. The only thing that should matter is your recovery. If you have been injured, you deserve fair and just compensation for your loss. A personal injury claim can help you have the comfort that your costs are covered while you focus on your recovery. If you have questions or need more information about your rights after an accident, contact an experienced car accident lawyer today.
---
Annes & Ables
100 N LaSalle St #1710
Chicago, IL 60602
(312) 924-7575