Representing Motorcyclists Injured by Drunk Drivers
Most traffic accidents in Chicago do not involve motorcycles. In fact, out of all the accidents in Illinois in 2011, only 1.5 percent were motorcycle crashes, according to IDOT.
Yet despite the fact that motorcycle accidents represent a small portion of crashes, they disproportionately account for injuries and fatalities. In 2011, motorcycle accidents were responsible for 5 percent of injuries and 16.7 percent of fatalities in Illinois. These numbers highlight some of the biggest issues facing bikers.
The odds of being involved in a crash might be low. However, the chances of being injured or killed in a crash are much higher than if in an automobile. If you or a loved one has suffered injuries in a drunk driving motorcycle accident then contact a Chicago motorcycle accident attorney today to discuss your recovery options.
Common Dangers to Motorcyclists
Many threats pose dangers to bikers. For example:
DUI Motorcycle Accidents
Annual statistics continue to show that many motorcycle accident injuries or fatalities are from crashes involving an intoxicating compound.
These accidents can be broken down into two main categories:
Accidents involving an intoxicated driver of a passenger vehicle
Accidents involving an intoxicated motorcyclist
If you are injured by an intoxicated driver, you may be entitled to bring a legal claim for your damages against the drunk driver. Typically, the DUI driver's insurance company will pay, depending on the facts of your accident.
A drunk driving motorcycle accident lawyer can help you determine what legal relief may be available. He or she can let you know if you should seek a financial settlement for your losses.
Driving under the influence of alcohol accidents
Whether a motorist feels impaired is not the legal test applied in Illinois. Rather, intoxication is defined by law and will be presumed whenever a driver has a blood alcohol content (BAC) of .08 or higher.
The amount of alcohol it takes to reach or exceed this level will vary from person to person. Factors can include height and weight.
But for many, 2-3 drinks may put an individual at or over the limit. Driving DUI in violation of state law means that a driver may have to pay fines, suffer a loss of license, or even incarceration if caught.
Crashes from driving under the influence of drugs
The laws regarding driving while under the influence of drugs other than alcohol are very strict. They also present the possibility of serious penalties if violated.
With many drugs, simply having the drug present in a driver's bloodstream may be enough to face charges. The penalties for drugged driving are often the same as those for driving under the influence of alcohol.
Civil liability for DUI motorcycle accidents
Besides criminal charges from a crash, there can also be civil liability. A driver who is under the influence of alcohol or drugs and cause a motorcycle accident that leaves another person injured can face civil claims for the damages.
This can include victims within the drunk driver's vehicle or in another vehicle, as well as those on motorcycles, bicycles, or even pedestrians walking in the area. Depending on the severity of the injuries and the number of victims hurt in an accident, these claims can cost drunk drivers hundreds of thousands or even millions of dollars.
In some crashes, the driver of a car that hits a motorcycle may be under the influence. Yet in others, the driver of a motorcycle may be the one that is DUI.
Of all the fatalities among motorcycle drivers in Illinois in 2011, 46.5 percent of those operators tested had at least a BAC of .01. When bikers have a higher BAC, the odds of them causing a collision increase significantly. This puts their own safety as well as the safety of others at risk.
Seeking Legal Help after a Motorcycle Crash
When a collision with a drunk driver leaves you injured, you can seek a financial recovery against the responsible driver. These claims can seek payment for medical expenses.
Your outstanding bills should be paid, as well as the estimated cost of future medical. For example, the cost of future surgical and rehabilitative expenses.
Claims can also seek compensation for time a victim had to miss from work. Sometimes a doctor might order a motorcyclist off work for weeks or months while recovering from injuries.
In the worst accidents with fatalities, the victim's surviving family members may be able to bring a claim for their losses. This, even though no amount of money can provide proper compensation in those cases.
Contact a Chicago Motorcycle Accident Lawyer at Abels & Annes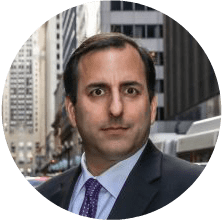 The Chicago personal injury lawyers at Abels & Annes, P.C. has experience representing motorcycle accident victims who have been injured by negligence. We fight hard for each one of our clients in an effort to obtain the maximum award possible.
If you are suffering from injuries from a motorcycle accident with a drunk driver, call us today at (312) 924-7575. Let us provide you with a free, no obligation case consultation. Our motorcycle drunk driving accident lawyers are standing by 24 hours a day to speak with you.
Following an accident with a DUI driver, do not wonder about your legal options. Call motorcycle accident lawyers now and let us help you get a recovery you deserve.
Call (312) 924-7575 or Contact Us online for a free consultation.