Truck rollover accidents are not an uncommon occurrence on our roads. Truck rollovers occur when a truck rolls over onto its side or top due to the loss of balance. While any vehicle can overturn, vehicles with a higher center of gravity are at a greater risk of a rollover. These vehicles include semi-trucks, tractor-trailers, and SUVs, among others.
If you suffered injuries in a truck rollover accident, consider contacting an experienced attorney to help you pursue compensation for your medical bills, loss of income, suffering, pain, property damage, and other expenses and losses.
What Is a Truck Rollover?
Truck rollovers occur when a large truck rolls over onto its side/top after a sharp turn or a sudden change of direction. When such maneuvers happen, trucks are more likely to roll over due to their higher center of gravity.
According to the Insurance Institute for Highway Safety (IIHS), rollovers accounted for 47 percent of all truck occupant deaths in a recent year. Among all vehicle types, rollovers accounted for over 7,000 fatalities across the United States.
Contrary to popular belief, truck rollovers do not only happen to inexperienced drivers. Even an experienced truck driver can end up in a truck rollover accident, especially when driving an overloaded or improperly maintained truck.
How a Rollover Happens
Trucks are some of the largest vehicles on the road, so any collision involving a truck can result in serious injuries or fatalities. A truck rollover accident happens when the wheels of the truck lose contact with the pavement. This causes the truck to roll over on its side. Because trucks have a high center of gravity, they are prone to tipping over in certain conditions. A rollover is especially common when a truck is driving through a sharp curve or in bad weather.
Causes of Truck Rollover Accidents
Most truck rollovers occur when the vehicle undergoes a maneuver that causes its weight to shift to one side of the trailer this is especially dangerous on the interstates where trucks must navigate crowded on- and off-ramps and cloverleaves, like the Dan Ryan, Kennedy, and Eisenhower.
Some of the most common causes of truck rollovers include:
Driving too fast for conditions. When a truck carrying heavy loads is traveling at a high rate of speed, it is more likely to roll over to its side when a dangerous maneuver happens.
Sharp turns. If a truck driver turns too sharply or suddenly swerves to avoid a hazard, it will cause the weight of the truck and its cargo to shift inside the trailer and make the truck fall onto its side.
Improperly loaded cargo. When cargo is not loaded evenly in the trailer, cargo shifts during the movement can cause the trucker to lose control of the vehicle, causing it to roll over onto its side.
Distracted driving. When a driver is not paying attention to the road, he or she is more likely to perform sudden maneuvers when attempting to avoid a hazard on the road distractions such as texting while driving double reaction time, according to a study published in Consumer Reports.
Driving while impaired by alcohol or drugs. Intoxicated truck drivers have a slower reaction time and poor judgment. Since impairment affects a trucker's ability to operate a truck safely, accidents are bound to happen.
Fatigued driving. Driving while fatigued can be just as dangerous as drunk driving, according to the Centers for Disease Control and Prevention. Sleep deprivation, drowsiness, and fatigue may cause vision problems, impaired judgment, and slower reactions.
Mechanical failures, including steering issues. While mechanical failures may not be as common as driver errors, problems with steering, brakes, and other truck parts may cause the driver to lose control and end up in a truck rollover accident. The only way to prevent truck rollovers caused by mechanical failures is by properly inspecting and maintaining the truck.
Unsafe steering techniques. If a truck driver fails to steer in a way that keeps their truck safely in the lane, a rollover accident is likely to happen. Steering in an over-correcting manner may also cause the truck to roll over to its side.
Overloaded trucks. Overloaded trucks have a higher rollover risk because trucks with too much weight are more likely to experience cargo shifting, causing the vehicle to fall onto its side. The sudden shifts of cargo in an overloaded truck make it more susceptible to rolling over.
Driving in inclement weather. Adverse weather conditions can increase the risk of truck rollovers. Truck drivers must take extra precautions when driving in inclement weather. However, many truckers fail to adjust their speed and drive carefully, which is why they are more likely to lose control of the vehicle and cause the truck to roll over onto its side.
Improper lane changes. Sudden, unsafe lane changes can result in a rollover accident. For example, if a trucker fails to check their blind spot before changing lanes, they may need to oversteer when they notice a vehicle lingering in its blind spots to avoid a collision. The sudden movement can cause the truck to roll over.
Falling asleep behind the wheel. A large number of truck drivers do not get adequate sleep in an attempt to maximize their profits. However, the lack of sleep increases the risk of drowsy driving and can result in the driver falling asleep behind the wheel.
Aggressive driving. Truck drivers who drive too aggressively or recklessly are more likely to be involved in rollover accidents than those who remain calm and stay vigilant while driving. Aggressive driving may cause a driver to make sudden movements, including improper turns and unsafe lane changes, which increase the risk of a rollover.
It may not be immediately clear what caused a truck rollover accident without evaluating all of the available evidence and records. That is why you might want to contact an experienced attorney to review your particular case and launch an in-depth investigation.
Determining the cause of a truck rollover can help you maximize your financial recovery, especially if your attorney can demonstrate evidence proving that the truck driver and/or their trucking company were negligent.
This is especially true with concussions and other types of traumatic brain injuries. It is always better to confirm the severity of your injuries with a doctor as soon as you can.
The Dangers of a Drowsy Driver
All truck drivers are required by law to stop driving and rest after a certain amount of time on the road. The hours of service rules describe the number of consecutive hours a driver can stay on the road, and the Federal Motor Carrier Safety Administration establishes and enforces these rules. Trucking companies are responsible for training their drivers and enforcing these hours of service. Although all commercial drivers should be aware of their legal and physical limits, some still choose to push through in the attempt to deliver their cargo faster when actually, they really should pull off the road. When a driver ignores their hours of service and opts to continue on the road even when they tired, that is when dangerous rollover accidents can happen.
By understanding how to recognize the signs of a drowsy driver you can help to avoid an accident. Here are some of the warning signals to watch for:
Trucks that are driving either far below or above the speed limit – This indicates the driver isn't paying attention to the traffic signs.
Trucks that are swerving in and out of their lane – One of the largest dangers of a drowsy truck driver is their tendency to overcorrect when they realize they are drifting out of their lane.
Trucks that change lanes without signaling – This is another sign that the driver isn't paying attention. They might not even realize they have changed lanes.
Trucks that don't slow down around tight turns – A sharp curve in the road is one of the most dangerous places for a truck driver to speed through. When drivers don't pay attention to the curves and turns in the road, a rollover accident is much more likely to happen.
If you recognize any of these signs and believe that a truck driver should not be on the road, it is important to pass them quickly. If you cannot do so safely, move off the road until they have passed and call the highway patrol to report the dangerous driver. By doing so, you could prevent a serious accident from happening.
Truck Rollovers FAQ
What makes trucks more susceptible to rollover accidents?
Large trucks and certain other vehicles, including SUVs, are more susceptible to rollover accidents because of their higher center of gravity. In fact, tractor-trailers and other trucks are more likely to roll over to their side when carrying heavy loads.
When a change of lane or sudden turn causes truck cargo to shift in the trailer, a truck is more likely to roll over. Individuals or companies responsible for loading cargo must follow strict regulations to minimize the risk of rollovers caused by improperly secured loads or incorrect distribution of weight.
Who can be responsible for a truck rollover?
A truck rollover accident may involve multiple at-fault parties. Depending on the circumstances of the accident, the truck driver may be the only liable party. However, if the trucker's employer a trucking company was also negligent, the victim can pursue a claim against both the truck driver and their company. A common example of a trucking company's liability is its failure to maintain the truck's tires, brakes, and other mechanical parts.
Consult a knowledgeable attorney to identify liable parties in your specific case.
What evidence do you need after your truck rollover accident?
The success of your claim after a truck rollover accident depends on your ability to support your case with clear and convincing evidence. That is why it is critical to start gathering and preserving evidence as soon as possible after your accident.
Evidence that might help you obtain the compensation you deserve might include:
Witness testimony.
Photos of the scene of the accident.
Videos from surveillance and traffic cameras.
Your medical records.
Others.
Key pieces of evidence can go missing if you do not hire an experienced attorney to preserve evidence after the accident. That is why you might want to consider hiring a knowledgeable attorney to handle all aspects of your truck accident case.
What are the common injuries in truck rollover accidents?
Injuries suffered by victims of truck rollover accidents vary greatly depending on the vehicles involved, the speed of the vehicles, and other factors.
However, some of the most common injuries associated with these crashes include:
Crush injuries
Loss of a limb
Broken bones
Fractures
Paralysis
Internal bleeding
Depending on the nature and severity of injuries, a victim may never fully recover after the truck rollover accident. When injuries cause permanent disabilities, the injured party can receive compensation for the diminished earning capacity and lost wages.
It is vital to receive medical care and document your injuries immediately after a truck rollover accident to maximize your compensation. A skilled attorney can help you navigate the insurance claims process to fight for maximum compensation on your behalf.
What compensation can you receive after a truck rollover?
If you suffered injuries in a truck rollover accident caused by someone else's negligent conduct, you might be entitled to compensation for your loss of income, medical expenses, and other economic and non-economic damages.
With a skilled attorney on your side, you may receive compensation for:
Medical expenses, including the cost of medical treatment, hospital bills, expenses related to your surgery, rehabilitation, and other procedures necessary to treat your injury and help you recover;
The cost of vehicle repairs. If a truck rollover accident damaged your vehicle, you might have the right to seek compensation for the cost of vehicle repairs. You may also obtain compensation for the cost of repairing or replacing your other damaged property and items (e.g., a cell phone).
Loss of income. If you cannot return to work after suffering injuries in a truck rollover accident, you might receive compensation for your lost wages and the diminished earning capacity.
Emotional trauma. Emotional trauma includes any non-economic damages that you suffered because of another person's negligence or wrongdoing. Common examples of emotional trauma in truck rollover accidents include mental anguish, pain and suffering, emotional distress, Post-Traumatic Stress Disorder, and others.
Seek legal counsel from a knowledgeable attorney to evaluate your unique case and determine the value of your claim after a truck rollover crash.
Can a trucking company be held liable for a truck rollover?
Trucking companies are responsible for ensuring that they check drivers' credentials to ensure that they put qualified and competent drivers on the roads. The Federal Motor Carrier Safety Administration (FMCSA) has established regulations for trucking companies and truck drivers. You can see these regulations on the FMCSA's website.
If the trucking company violated any of the FMCSA regulations or was in any way responsible for causing or contributing to the truck rollover accident, the injured party can pursue a claim against the company.
For example, one of the duties of trucking companies is to perform regular inspections and maintenance of vehicles. If a truck rollover occurs because of inadequate maintenance or the lack of inspection, the trucking company can be liable for the injuries and losses suffered by the victim(s).
However, proving that a trucking company is liable can be challenging, which is why you might want to contact an experienced attorney to review the circumstances of your rollover accident and find evidence to pursue a successful claim against the truck driver, the trucking company, and other liable parties.
Do you need an attorney after a Chicago truck rollover accident?
Yes. Trucking companies must keep tons of records regarding the operations of trucks, hiring and training of drivers, loading and shipping of cargo, hours of service, inspections and maintenance of trucks, and many more. Some of these records may become critical pieces of evidence in your truck rollover accident for example, if a driver violated the federal hours of service regulations and did not get the required rest before the accident.
An attorney will help you obtain access to all records and data related to the truck rollover accident to determine fault and hold the negligent party responsible for your injuries and losses. Your attorney will advocate for your rights and help you build a strong legal case against the at-fault driver and/or trucking company.
If necessary, your attorney will also consult with accident reconstruction experts to determine how the truck rollover occurred. Your lawyer will also communicate with insurance companies and help you negotiate a fair settlement for your damages and losses.
Call a Chicago Truck Accident Lawyer Today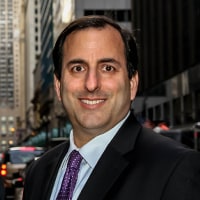 Going through the experience of a truck rollover accident can be traumatic for all involved. If you've suffered injuries in this type of accident, it is advisable to speak with an experienced Chicago attorney.
At Abels & Annes, P.C., our legal team is dedicated to fighting for our clients' rights to fair compensation. We understand the legal system when it comes to personal injury.
Call us today at (312) 924-7575 to schedule a free consultation. We will review the details of your case and answer any questions you might have. You can also contact us online.
Chicago Office
100 N LaSalle St #1710
Chicago, IL 60602
Toll Free: (855) 529-2442
Phone: (312) 924-7575
Client Testimonial
"This firm was great to work with. Very fast and understanding. Every time I called I was able to receive an update about my case and always had a polite conversation. I was able to get through my case with less stress then I anticipated. I will be sure to come back if I am ever in need of their services again."
Rating: 5/5 ⭐⭐⭐⭐⭐
Darryl W.
March 2020
Read more reviews on Google!