​How Much Does a Lawyer Cost for a Car Accident?
If you or a loved one was recently involved in a car accident, you might be wondering if you should hire a
car accident attorney
. Unfortunately, many car accident victims across the United States don't contact an attorney after suffering injuries because they are afraid they can't afford one or think it will simply be too expensive or not worth it. This is a common and frustrating myth for attorneys and victims alike as it is unfounded. Injured parties should know that they don't need money to start their claim and how attorney's fees work in personal injuries.
Free Initial Consults
Nearly all personal injury attorneys, including car accident attorneys, offer injured parties and their families free initial consultations. Sometimes these are done in person, and sometimes on the phone. However, the bottom line is that it costs nothing to meet with a qualified car accident attorney to discuss your potential claim and receive sound legal advice. During this consultation, the attorney will ask many questions about your accident and injuries to determine if you have an injury claim worth pursuing. If you do, then you have the option to hire them to handle your claim. Your consult remains accessible even if you don't have a claim worth pursuing or choose not to hire the attorney for any reason. You've lost nothing by meeting with a car accident attorney.
Contingency Fees
In addition, most car accident attorneys have
contingency fee
arrangements. Contingency fee arrangements allow injured individuals to afford reputable legal representation against corporate giants and merciless insurance carriers. With a contingency fee agreement, there are little or no charges for the injured party to worry about until the case is completely over. Most car accident clients think a contingency fee means their lawyer will receive one-third of the final settlement, and they will receive the other two-thirds. However, it's slightly more complex than that. So it's possible that medical liens and additional costs will also come out of your final payout. It's your attorney's job to explain precisely how they will calculate their fees and what else might come from any potential settlement or court verdict you stand to receive. Even though lawyers are legally required to explain their fee structure, the client is responsible for reviewing and understanding the fee agreement before they sign it. With contingency fees, receiving payment for the work your lawyer does on your case relies on them obtaining compensation on your behalf. They don't get paid anything unless or until they receive a settlement or a court award. If they cannot get compensation for your claim, they don't receive any payment at all, and you don't owe them a penny when your case concludes. If a car accident attorney agrees to represent you, you can be reasonably confident they can obtain compensation for you. If they didn't think they could, they wouldn't agree to represent you on a contingency basis.
How Much Are Contingency Fees?
There is no standard or set required amount that car accident attorneys must charge for their services. The rate car accident attorneys charge for contingency fees varies depending on the practice, the region, and other variables. The
ethical rules
require that a lawyer's fees are "reasonable" for the legal work they provide. Therefore, a lawyer should charge a reasonable percentage of your financial recovery as their fee. Some attorneys charge more if the case goes to court. While this might seem discouraging, keep in mind that most
car accident victims
receive more compensation for their damages when they hire an attorney to represent them - even after they have paid their attorney. Be aware that this percentage may or may not include other administrative or records fees. For example, some attorneys and law firms absorb these into their pricing structure, while others charge separately. When you hire your attorney, you will sign a contract that states exactly what their fees are and how they will calculate them. There should be no surprises once your case resolves regarding what you owe your attorney from your settlement or court award.
Other Costs Attorneys Might Charge in Accident Claims
Although most car accident attorneys don't charge you their service fees until it comes out of whatever they win on your behalf, other fees are often involved with accident claims. Those can include:
Postage fees
Filing fees
Photocopying expenses
Costs of obtaining copies of medical records
Expert witness or investigator fees
Costs associated with depositions, transcripts, and trial exhibits
Don't let the thought of these fees keep you from getting the legal help you need, either. Most car accident lawyers don't charge for the extra fees and expenses as they come. They may cover those costs for the time being, then deduct them from your settlement or award once they receive it, as they do with their contingency fees. Note that additional fees are frequently higher the longer your case goes on. Be sure to inquire about these fees during the initial consultation with your potential lawyer. However, paying higher fees will likely be worth it if your lawyer works longer to obtain a higher settlement for you.
How Your Attorney Gets Paid When They Resolve Your Case
Suppose your car accident attorney is successful and wins you money in your case. In that case, they will usually receive your settlement check or court award directly. This way, they can take out their percentage as their contingency fee for the services they rendered. After receiving your
settlement check
, your lawyer should contact you. They will give you an itemized list showing their own fee, any other costs or expenses involved in the case, and any medical liens they paid on your behalf. You will then receive the remaining balance from your settlement. This process benefits injured claimants because it allows you to get paid without worrying about paying your attorney out of pocket. It also helps decrease the stress about fees or costs while your case is ongoing.
What is Your Claim Worth?
This is a common question among recent car accident victims. When you meet with an attorney for your initial consultation, they can discuss with you what your claim might be worth. The value of your claim can depend on many factors, including:
The type and extent of your injuries and damages
Where you live
Recent similar cases in your area
The strength of your claim
The applicable insurance policies
Who is responsible for your injuries
The compensation you receive should cover your economic and your non-economic damages, including:
Lost wages and income
Property damage
Medical expenses
Attorney and legal fees
Scarring and disfigurement
Emotional distress
Mental anguish
Humiliation
Loss of enjoyment of life
Loss of consortium
Choosing the Right Car Accident Attorney
Choosing a car accident lawyer to handle your car accident claim can be one of the most important decisions you make in your life. Hiring the wrong attorney—someone who isn't experienced or lacks negotiation, advocacy skills, or the compassion you need can be extremely detrimental to your injury claim. This means not receiving the compensation you deserve at all or receiving less than you are entitled to receive. Far too often, injured claimants pick the first attorney that shows up in their internet search browser or the one they saw on a bus advertisement. Sometimes they may get lucky, and the random one they choose will be the right one for them. But how do you choose the right car accident lawyer for you? It's best not to leave it to chance. Selecting the right attorney is about more than just costs.
What Types of Law Does the Attorney Practice?
Some attorneys and law firms dabble in many types of law. For example, they might assist clients with estate planning, divorces, child support enforcement, and personal injury. While there's nothing wrong with practicing in multiple areas of the law, you might not get the representation you are hoping for if you hire an attorney who does this as opposed to someone who focuses solely on personal injury law. For example, car accident lawyers who focus just on personal injury or car accidents have more experience working in the personal injury field and, therefore, more exposure to local courts and judges and lawyers for the opposition.
How Long Have They Been in Practice?
Generally, the longer someone has been doing something, the better they become at it. The same is true for personal injury attorneys. The longer they have been in practice, the more negotiating skills they might have to fairly
settle your claim
out of court. Experienced attorneys don't shy away from taking your case into litigation if that's what it takes to receive the compensation you deserve.
How Do They Get Paid?
Most car accident victims don't have the cash to pay their car accident lawyer upfront for their services. Thankfully, most car accident attorneys understand and respect that you may not have money to pay for legal expenses upfront after your involvement in a car accident. After all, you likely have medical bills you must cover, and you may not even be earning a paycheck while recovering from your injuries. So before you meet with a car accident attorney, find out if they charge for initial consultations and if they work on contingency fees. This will be extremely important if you don't have the money to pay an attorney right now.
Are They Financially Stable?
If your claim involves catastrophic injuries such as a
traumatic brain injury (TBI)
or a spinal cord injury (SCI), it will be a lot more complex and expensive to settle or litigate. For example, your car accident lawyer might need to advance payments to consultants and specialists, such as medical experts and
actuarial accountants
. Even though they will receive these funds back once they successfully negotiate a claim, they must pay for these essential personal injury services upfront. Suppose an attorney or their law firm doesn't have money to pay for the necessary specialists upfront. In that case, their client's claim won't be successful.
Do They Have Time for Your Case Now?
Finding an experienced car accident lawyer who has time to work on your case now is crucial. Many large firms will take on hundreds of personal injury claims at once. The new cases they take on get pushed to the back burner until they settle the old ones. During this time, they can lose valuable evidence in support of claims and even ignore clients who want a case update. Sometimes they might even miss deadlines. By
hiring a car accident lawyer
who has the time to work on your case now, you can ensure they will not ignore your matter. The investigation into your accident will start soon, and no deadlines in your case will be ignored or missed.
Are They in Good Standing?
Is your potential car accident attorney in good standing with
your state's bar association
? Have or are they facing disciplinary action? Take the time to do some research, google their name, and read their reviews to see what people are saying.
How Does the Attorney Make You Feel?
Sometimes choosing the right car accident lawyer comes down to trusting your gut. You need a car accident attorney you can feel comfortable speaking to and bringing up any questions or concerns you might have. After all, they will need to know some private details of your life, such as information about your injuries, finances, and relationships. You want to hire someone you can trust and speak with openly. If, for whatever reason, you just don't feel comfortable with an attorney or your gut is telling you no, keep looking.
Contact a Car Accident Lawyer Today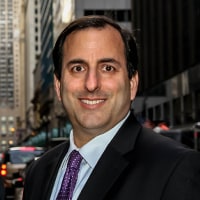 If you or someone you love recently suffered injuries in a car accident, don't put off contacting an experienced car accident attorney. Instead, you can maximize your compensation by hiring an attorney sooner rather than later and not paying anything upfront for their services.
Chicago Office
100 N LaSalle St #1710 Chicago, IL 60602 Toll Free:
(855) 529-2442
Phone:
(312) 924-7575