motorcycle accident lawyer in Chicago, Illinois
Illinois law has several requirements for anyone involved in a motor vehicle accident, no matter what type of vehicle it may be, including a motorcycle.
Most of these steps are just common sense. However, there are a few technical requirements that have to do with reporting to legal authorities.
Anyone involved in a motor vehicle accident needs to be aware of these requirements. This, especially since failure to comply with Illinois law can result in criminal charges and costly fines. Read on to learn more about the Chicago motorcycle law from the experienced Chicago motorcycle accident lawyers at Abels & Annes, P.C.
Do Not Leave the Scene of the Motorcycle Accident
Even if there is only property damage, don't leave the scene. Failure to stop constitutes a "hit-and-run," which is a criminal misdemeanor. However, if there is a serious injury or death, a hit-and-run" can constitute a criminal felony.
If the vehicles and their occupants can be moved safely, it is okay to move the vehicles out of the roadway. For example, moving to the shoulder, or onto an off-ramp or side street. This can be done for the purpose of safety and to minimize obstructions to traffic, but it should be within the vicinity of the accident scene. If the collision involves an unoccupied vehicle, the driver must still stop at the scene.
Seek Medical Attention after a Chicago Motorcycle Accident
After stopping at the scene, the top priority is rendering immediate aid for those who are injured. Time can be a critical factor for addressing your motorcycle accident injuries, particularly in the case of traumatic injuries.
For motorcyclists, this is especially critical. Head injuries are the leading cause of fatalities in motorcycle crashes.
Motorcyclists are especially vulnerable to injury because they have no protective cage between their bodies and the road or other vehicles. Further, Illinois has no helmet law. This leads to a higher likelihood of serious head injury in accidents involving motorcyclists.
Unless a motorcyclist is wearing a good helmet and full protective gear, chances of injury are extremely for a motorcyclist in a crash. Even with protective gear, broken bones or other serious injuries are not uncommon.
For any crash involving injury, calling 911 right away is always warranted. This is not only for the purpose of summoning emergency medical aid, but for the purpose of summoning law enforcement to come make an accident report.
If one of the involved parties is capable of personally rendering any necessary aid, it is important for them to do so. This can mean CPR, application of first aid, covering someone with a blanket, or the like.
Exchange Information
After a collision, the drivers of the vehicles involved need to exchange information including their names, addresses, vehicle registration numbers, the name of the owner(s) of the vehicle(s) (if the owner is not the driver), insurance information, and license plate numbers. If requested, the drivers must also show their driver's license.
It is also important to obtain the contact information of any witnesses to the accident, including occupants of the vehicles other than the drivers. If one of the vehicles is unoccupied, the driver must leave a note containing all the necessary information with the vehicle in a conspicuous place.
If one of the parties is incapable of providing this information due to a serious injury or other applicable circumstance, it may be acquired by other means or at a later time.
Report the Chicago Motorcycle Accident to Law Enforcement
Under Illinois law, every driver involved in a traffic accident must file a crash report to the local law enforcement authorities if an accident resulted in a fatality, any bodily injury, or more than $1,500 in property damage. Several municipalities in Illinois require law enforcement to be on hand at the scene of any accident regardless of these limitations. Therefore, the safest route is simply to notify local law enforcement immediately after an accident.
If law enforcement does not show up, it is your still responsibility to report the accident to local law enforcement. That, whether it's local police, the local sheriff, or Illinois State Police.
To understand what type of accident you should report review some of the most common types of motorcycle accidents like:
If you are injured and need to seek medical aid immediately, then a passenger in your vehicle may file the report, or you must file the report within 10 days of being discharged from a medical facility. Failure to file the report could result in jail time, and cost $2,500 in fines.
Consult with a Chicago Motorcycle Accident Attorney Now
In addition to meeting the requirements outlined above, if injured contact an experienced motorcycle accident attorney.
The Chicago personal injury attorneys at Abels & Annes, P.C., have many years of experience representing the victims of motorcycle accidents. Sadly, motorcyclists in collisions are often the victim of another driver's negligence. And if you have injuries as a result of someone else's negligence, Abels & Annes, P.C. can help.
Your physical injuries may require emergency medical care, hospitalization, surgery, or extended treatment or physical therapy. There is also the emotional cost of experiencing a traumatic event and serious injury.
And on top of these difficulties, other factors may add to your troubles and cause you even more aggravation. For example, if the party responsible for the accident fails to provide restitution to you, either directly or through an insurance carrier.
Beware of Insurance Company Tactics
Unfortunately, insurance companies, which supposedly exist primarily for the purpose of providing financial assistance and reparation in the event of an accident, frequently try to deny or limit claims. This is particularly true when an accident has costly consequences.
An insurance adjuster may grossly undervalue case value, or deny a claim outright. Also, a valid claim may have delays from unnecessary inquiries or requests for paperwork.
Further, the insurance company may try to pressure you into signing an unfair settlement agreement. They may do this even before you know the full extent of your injuries and damages.
These tactics are not uncommon. Particularly when you are vulnerable and under stress from all the changes and upheaval that follow an accident. Some insurers believe they can pressure you because you have little or no knowledge on how to pursue your claims.
When you are on your own, it is easy to get overwhelmed with legal language, technical details, and deadlines. You might accept rationale intended to convince you that you have no choice but to accept an offer. An offer may even seem reasonable or generous when you don't know your rights.
How Often do Motorcyclists Get Hurt in Accidents?
According to the Centers for Disease Control, on average, the nation's emergency rooms see over 150,000 motorcyclists per year. Of these visits:
30% are for leg or foot injuries
22% are for head or neck injuries
20% are for injuries to the upper half of the body
18% are for arm or hand injuries
Often, the injuries sustained by motorcyclists involve more than one body part. This, in addition to more superficial injuries such as scrapes, lacerations, and bruising. If you have suffered ANY injuries after your motorcycle accident learn what your legal options are from a Chicago motorcycle accident attorney today.
An Experienced Chicago Motorcycle Accident Lawyer Can Help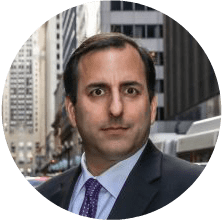 An accident attorney can help you avoid the problems that come from trying to deal with a claim on your own. At Abels & Annes, we take our clients' interests to heart. We aggressively pursue all the damages that we believe our clients are due from insurance carriers. We know the law, and we know what insurance companies can and cannot get away with.
When you work with us, we will explain your rights and advise you of your options. You will have peace of mind knowing that you have skilled attorneys on your side. Further, you will not have to pay any legal fees unless and until damages are collected on your behalf.
When you are trying to recover from a motorcycle accident, the last thing you need is the added pressure, worry, and aggravation of trying to deal with complex and confusing paperwork. And it's not fun dealing with insurance people whose only interest is to get you to sign on a dotted line. The sooner you start working with the personal injury attorneys at Abels & Annes, P.C., the sooner you can concentrate on getting your life back in order.
If you have been injured, or someone you love has been killed, in a motorcycle accident, contact the knowledgeable Chicago personal injury attorneys at Abels & Annes, P.C. Call (312) 924-7575, or use the online form here on this website.